The park features a few acers of rolling hills, trails, kids play structures, and a large field to do just about anything in. The play structures consists of swings for both youth and older children, teeter totter, a horse to climb and swing on, and multiple play structures for adventurous kids. The trails go down to the creek; they are still in the process of being maintained. Maybe you'll find a deer while exploring.
There is so much to offer with Lamson Park. With its large room to put on events and multiple kids play structures, there's bound to be something that can be enjoyed here.
History
The Lamsons are known around the Willamina community back in the day. They owned timberland and were one of the original family of settlers on the land.
When Dora Wilma Lamson was born, in June of 1898, in the Willamina/Yamhill area, her father, Roy Burgess Lamson was 24 and her mother, Marjorie "Margi Barber, was 23. Dora had six other siblings, three sisters and three brothers, she was the second oldest in the bunch
O.C. Yocom Sr was born in September 1900 in the Bellevue/Yamhill area, his father Jesse Nathen Yocome, was 32 and his mother Belle Nellie Rhoads was 33 at the time. He had two older brothers Chester and Ancile.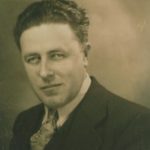 He married Dora Wilma Lamson in April of 1921. They became parents to one son, O.C Yocom Jr. They lived in Willamina, Oregon for about 5 years. O.C Yocom Sr passed away in October of 1973 at the age of 73.
While Dora lived in the Willamina area for 15 of her years. She passed away in April of 1996 at the age of 97.
Their son was born in May 1922, O. C Yocom Jr graduated from Willamina High school, attended Oregon State in engineering before serving in the Navy during WWII. After the war, he returned to Yamhill County where he worked in the road construction business with his father and Claire Meisel. Being an entrepreneur at heart, O.C. was involved in many businesses through his life time that included, O.C. Yocom Co, Dayton Sand and Gravel, Pioneer Reality, Skyline Ranch, Starr Quarry, and many more.
O.C Jr married in 1952 in the San Francisco, California area for 60 years. They raised their children in Mcminnville Oregon. O.C. believed strongly in giving back to the community and served on many boards throughout Mcminnville, and Yamhill County.
He was especially proud of his heritage from both his parents. A descendant of pioneers who came out west over the Oregon Trail in 1847.
Most of the business's OC was a part of back in the day are still going strong. Skyline Ranch, a property of 1400 acres of trees, located outside Sheridan, OR is still harvesting 900 acres of mixed trees that include 500 acres of Christmas trees. The owners are now decedents of the Yocom family and has been managed for the past seventy odd years.
One such property is now the Lamson Park in Willamina. The Lamson's owned this piece of property before donating it to the City. First, they logged the trees, and then donated it in memory of O.C. Yocom's mother Dora Wilma Lamson Yocom, where her name rests on the Lamson park sign.