History
Overview
Willamina
was named
in honor of a pioneer woman named Willamina Craig Maley Williams. In 1846, she was the first white woman to cross the river. Willamina was a mill town, and because of all the trees around, logging became very important. 350,000 board feet per day
was harvested
in 1939.
Because of its economy revolving around logging and sawmills, Willamina
was dubbed
Timber Town USA
.
Willamina sits in both Yamhill and Polk Countys. It is a community with many traditions and love of the outdoors.
1800s
In 1878, a gristmill
was built
on the river.
Hezekiah Baily used it to run power to a sawmill that would provide lumber for the growing settlement
. A ten-block platted town site near the mill
was created by
Wisdom Millsap.
Incorporation
1903 the town
was incorporated
and housed about 200 people, with local Paul Fundman as Mayor.
Early Economic Growth
1907 created the first economic boom with the creation of the Pacific Face Brick Company. The company
was created by
O.K. Edwards of Newberg.
The clay came from the creek nearby and was of such good quality that the bricks were in high demand up and down the west coast
. Bricks don't burn like wood, so they became popular due to the high risk of fire threat during this time. Cities and towns all over the Willamette Valley used these bricks to build. 350 to 400 tons of clay per year
was provided
to the Pacific Stoneware Company in Portland.
Clay
was processed
and fired from different areas. Local clay was light in color, with red clay brought in from Newberg, and buff clay from Buena Vista. Annual production of the bricks varied, 1 to 4.5 million bricks a year. Today, unfortunately, nothing remains of this historic company. The plant closed in 1974 and the buildings
were destroyed
in 1976.
The Pacific Face Brick Company
was located
north of downtown near today's Hamptom Lumber Mills
.
Logging and Sawmills
By the late 1930's, timber was the big business in the area. Pacific Plywood opened a plant and Willamina tripled in size. It became known as the "little town with the big payroll". It
is said
that at one time almost 250 log trucks went over the Willamina River in a day.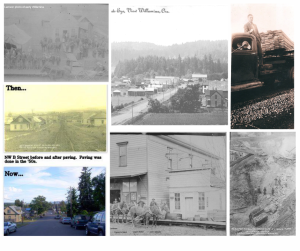 Lester M. "Bud" Hampton purchased his first sawmill in Willamina in 1942 to supply his lumber business in Tacoma, Washington
. In 1946 a fire destroyed the structures, docks, and yards of the Willamina Lumber Company. Bud decided to rebuild.
Now a fourth generation family-owned company, Hampton Lumber grew to include ten sawmills in Oregon, Washington, and British Columbia
.
Booming timber and brick industries brought more people to the Willamina, transforming the once sleepy town into a bustling community and continues to be the mainstay of the community
. The population of Willamina is now about 2,240 people since 2020.