Mission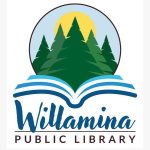 A library is a gateway to the creative mind, the knowledge one might learn, and to explore a new culture, Libraries play an important role in todays life. The resources and services that are offered at a library create the opportunities for learning, support literacy and education, they also help shape new ideas and perspectives that are central to a creative and innovative life.
With being an important location for growth and development, libraries also provide scientific services, fulfill social needs, and help individuals flourish in many different ways.
Willamina Public Library is dedicated to serving patrons of the Willamina area, being a resource hub, and gathering place for the local community. Where we educate and create a safe place for both young and grown adults, to open up their minds to new adventures and ways of thinking.